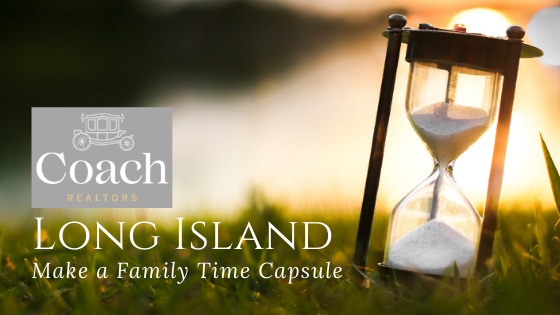 Has your family run out of words for Scrabble? Maybe you've binged everything in your Netflix queue. Our REALTORS® understand the difficulty of finding new and entertaining ways to pass the time at your home on Long Island.
Creating a time capsule is an absorbing and rewarding activity that pays dividends now and later. Use these helpful suggestions to start a creative project involving the whole family.
Make It Personal
Traditional time capsules tend to focus on historical context, with documents and artifacts that objectively depict events of the time. While such items can certainly be part of your time capsule, the primary purpose is to relate each family member's personal experience during the COVID-19 quarantine.


Limit Technology
It's tempting to use the convenience of flash drives, DVDs, and other digital storage. While improvements in technology are largely a good thing, they come so quickly that storage forms can be outdated by the time you're ready to open the capsule. Stick to hard copies of photos and writings wherever possible.


Document Your Surroundings
Our world has temporarily shrunk to include only our immediate surroundings, which is your home, and what you can see from the windows. Draw a diagram of your neighborhood or print a picture off Google Maps. Add as much as you can about who lives where and what your interaction is with them. Also include detailed photos of your home, both exterior and interior.


Make Lists
There's a reason "listicles" are so popular in online media. They're easy to read while still imparting a lot of information. Stay-at-home provides almost an endless selection of topics to build lists around. Possible choices include TV shows and movies you've watched, games you've played, new recipes you've tried, and books you've read.


Include Meaningful Mementos
Newspapers and magazines are great inclusions to give a global perspective of events, but be sure to include items that are relevant to you and your family. Consider options such as a toilet paper roll (empty, of course), face mask, wrappers from favorite snack foods, and locks of hair from each family member (including pets!).


H Is for Homework 
Homeschooling has become the rule instead of the exception. Include copies of reports, math problems, spelling quizzes, and other examples of schoolwork your kids have done so they can recognize their accomplishments. 


Say It in a Letter
Are you or your kids unsure where to start? Writing thoughts down in the form of a letter makes it easier to maintain a casual, conversational tone. Address the letter to a friend, another family member, or your future self.


Look Ahead
What do you see happening one year, five years, or 10 years down the road? Have each family member write down their predictions for the future. Everybody can have fun giving their imaginations free rein, and you can look forward to finding out whether any of the dreams become reality.


Set an Opening Date
Think carefully about when you plan to open the time capsule. A certain amount of distance, at least 10 years, makes the opening more meaningful. You may want to coordinate the opening with a milestone birthday, anniversary, or other significant family occasion.
Do your future plans include a new home? Contact us at Coach Realtors for up-to-the-minute information on Nassau County homes for sale and Suffolk County homes for sale.